The Indian School of Business (ISB) has been listed as one among the top 20 global B-schools by the Financial Times annual MBA 2008 rankings. The achievement is particularly notable, as the ISB is the first B -school from India, to have found a place in the FT's B-school league table.
This is a landmark event for the ISB. It sums up our single-minded goal to be recognised as a global centre of excellence in business education. This ranking is an important milestone in our journey to be an internationally top-ranked research-driven, and independent management institution that grooms leaders for the world. -M Rammohan Rao, Dean
You might wondering why IIM is not in the list?
Financial Times methodology includes the following:
To be eligible to participate, a business school must be internationally accredited by a body such as the AACSB, AMBA or EQUIS…
ISB has AMBA accredition. I am not sure if the IIMs goverened by the Indian Government are yet accredited to AACSB, AMBA, EQUIS. IIM A was seeking EQUIS accredition in Dec 2006. So I guess the IIMs were not even eligible to participate in these rankings.
Four things make this a very significant achievement:
This is the first time a business school from India has achieved a place in the global top 100 !
ISB is probably the youngest institution ever to find a place in this list. The school just started 6 years back!!
This is the first time ISB participated in the rankings and it achieved a position in the top 20 straightaway !!!
If you visit ranking page and sort by weighted salary, you will see ISB on top. It means rank no: 1 in the world. Humm? Lets take it as fresh breath of reality.
President George W Bush Visited the ISB in year 2006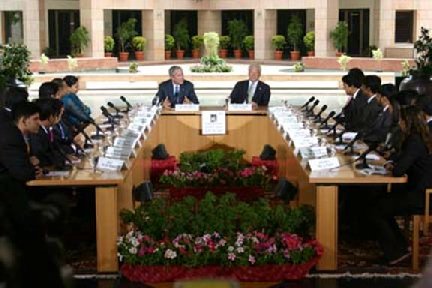 Keywords: ISB, MBA 2008 rankings, B-schools, ISB NDTV news video, ISB news on TV
ISB in elite B-schools league
Transcript of this video:
The Indian School of Business in Hyderabad has been ranked among the top 20 business institutes of the world. According to UK's Financial Times newspaper, the ISB, which was founded in 1999 by a group of Fortune 500 entrepreneurs and the Andhra Pradesh government is ranked number 20 B-school in its top 100 list.
» Similar post from the past: